Photos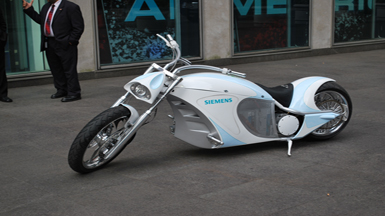 The Siemens Smart Chopper is the first electric chopper by Orange County Choppers. Made from new and recycled materials and LED lighting from SYLVANIA, a Siemens Company, the bike can go 60 miles on a single charge and can go 100MPH!

In it's first ride ever, Paul Teutul Sr of Orange County Choppers, drove the bike around Columbus Circle in New York City, where it was admired by hundreds of New Yorkers and tourists. Most couldn't believe how quiet it was!

Siemens and Orange County Choppers unveiled the bike outside the Time Warner Center at Columbus Circle in New York City on August 12th, 2009. Daryl Dulaney, President and CEO of Siemens Industry Inc, emceed the event.
Related Links
The Siemens Smart Chopper's Destiny is up to You!
The Siemens Smart Chopper, Orange County Choppers' first custom electric motorcycle featured on American Chopper, is being donated to a charity organization, but which organization it will be is up to you! Since first unveiled in August, the Siemens Smart Chopper has been touring the country, participating in trade shows and events with Siemens. Starting Monday, December 14th, three charities - the American Association for the Advancement of Science, Earth Day Network and Keep America Beautiful - will be competing for online votes to win the Smart Chopper. Voting will be open until April 14th, 2010, so get your votes in today here.