Photos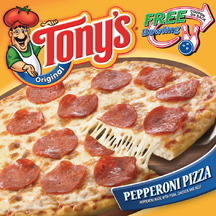 Tony's® pizza is offering coupons for a free game of bowling. The free bowling coupon is right on Tony's® pizza packages in the freezer section of grocery stores nationwide.

Tony's® pizza free bowling coupons, worth up to a $6.00 value, are redeemable at more than 2,000 Strike Ten bowling centers across the U.S. through December.

Barnes Family
Related Information
LOOKING FOR A FAMILY FUN ACTIVITY THIS HOLIDAY SEASON?
FREE BOWLING PROGRAM FROM THE MAKERS OF TONY'S® PIZZA IS GIVING FAMILIES MORE FREE FAMILY ENTERTAINMENT EVERYONE CAN ENJOY
MINNEAPOLIS – Dec. 4, 2009 – /PRNewswire/ – What to do when the kids are home from school, the relatives are in town visiting for the holidays and everyone is bored and tired of sitting around the house and eating turkey? For families looking for free, fun, holiday activities the whole family can enjoy, the makers of Tony's® pizza have the solution with their free bowling program which is bringing even more value to families seeking good food, great value and free family entertainment this holiday season. The bowling program provides tens of millions of coupons on the packages of Tony's® pizzas for a free game of bowling, redeemable at more than 2,000 Strike Ten Entertainment member bowling centers around the United States.
Click here to view the complete press release.